Climatologists are beginning to form a consensus, early signs from July that El Niño might be moving out have proven accurate, as La Niña continues to take hold in the Pacific east.  This all sounds like a bunch of intense science garble, but what it means to us is we're in for a cold winter with epic snowfall totals.
A couple of weeks ago Canada saw it's first reported snowfall of the season, hitting higher elevations of a number of resorts in the mountainous Lake Louise area.
Now, as the Farmer's Almanac releases their own freezing and snowy long-range winter forecast, the peaks in Whistler received about 3cm of snow on September 2nd.

Whistler Peak Webcam from Sep 2, 2016
Meteorologists from the US National Weather Service are predicting that with the arrival of La Niña, the more northern resort areas should see heavy snowfalls this season.
[sam id="1" codes="true"]
What is La Niña?
La Niña is large scale change in the sea-surface temperature across the eastern pacific ocean that occurs when a cooler than normal pool of water moves into the area.  This typically happens because the westerly trade winds which blow this pocket of water  west, have died down, allowing it to return.
The result is a shifting of the Jet Stream further north, which sees bigger precipitation storms also move north, while cooler polar air is sucked south, resulting in optimal conditions for snow formation.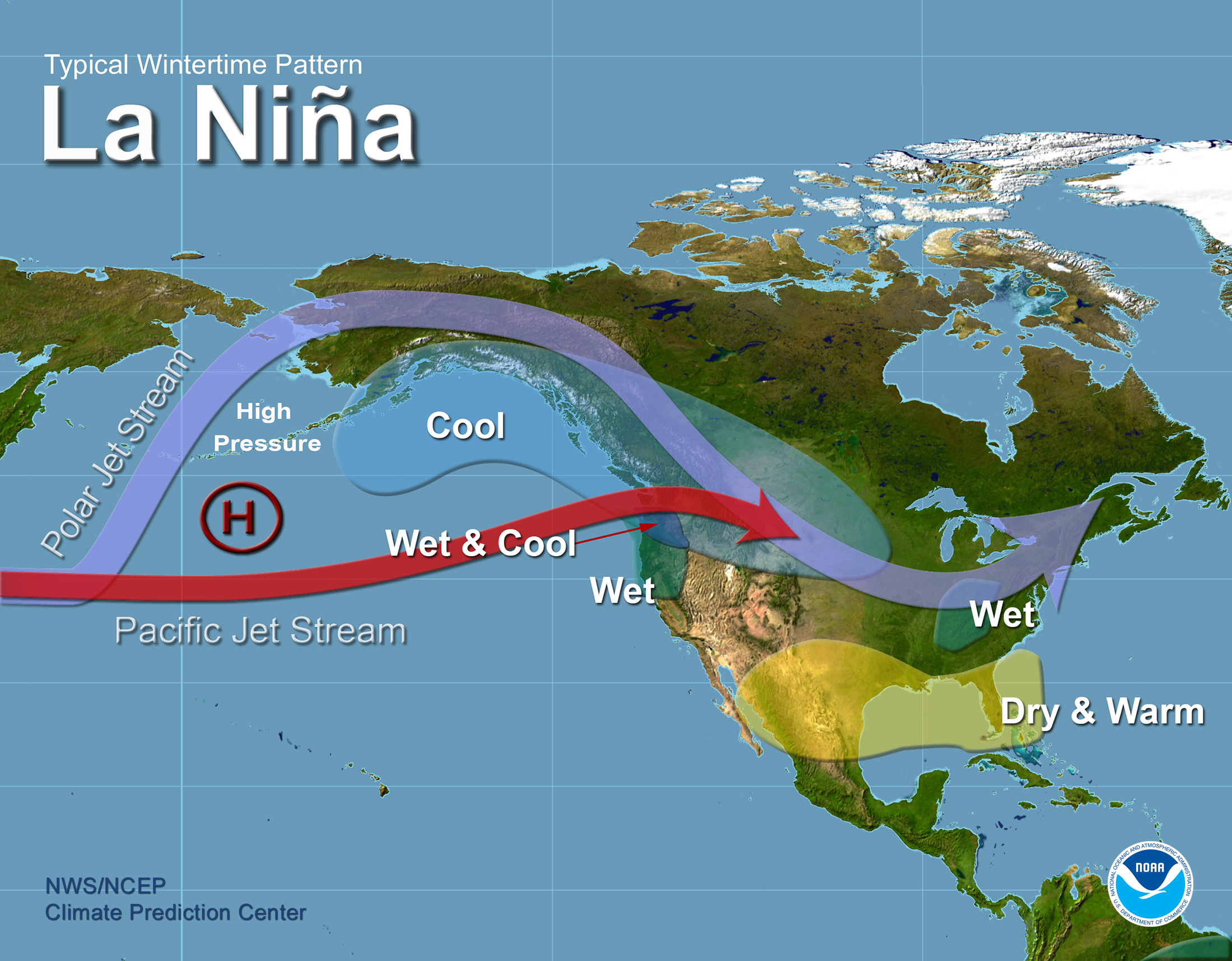 La Niña conditions recur every few years and can persist for as long as two years, giving us hope for a killer season next year as well.
Great news for the East
Areas to the east were hit hard with crappier than normal conditions and a severely shortened season last year. Â This forced the cancellation of a couple of earlier season LGBT ski festivals including Ontario Gay Ski Weekend at Blue Mountain, and Super Ball at Bristol Mountain. Â Above average temperatures resulted in abysmal snowfall totals, and lots of rain further compounded the problem melting away what little snow did fall, or resorts made.
This year things are looking up.  The Canadian Farmers' Almanac's editor Pete Geiger told CBC Radio's Metro Morning "We think old man winter is going to return... It's going to be downright cold."  They claim that in non-El Nino years, they are  anywhere from 80-85 per cent accurate.  We'll take those odds.
The almanac predicts the season will get started early too, with the cold temps beginning to settle in early-mid October, dropping temps steadily to give the resorts a good chance to get a jump on snowmaking before a "major storm" hits the region in early December.
OnTheSnow's Chris Tomer, is suggesting that areas like Jay Peak in Vermont should see about 100% of their annual average of 958 cm of snow.  This should leave a nice deep base for the later season Big Gay Jay Weekend.
Not too far geographically away, members of our Montreal club should enjoy similar results.  Tremblant on average receives about 381 cm of snow.  Predicted early season storms should lay down a good base for OUTSLOPES' Tremblant Weekend in early January.
Toronto Area
A little further west, our Toronto club members are expecting a strong snowfall season.  On average, Blue Mountain resort  in the Collingwood area of Ontario, Canada, sees about 279 cm of natural snowfall.  Last year they still saw a not to shabby 237 cm. The problem was a lot of this snow being very wet and heavy. Persistent warm temperatures coupled with lots of rain resulted in significant melting all season long.  So actual conditions were... well... crap.  This year the expected colder temps will keep what snow falls, on the ground.
The reality is, this is expected to be a more "typical" winter for this area... but in contrast to last year, it will look like paradise.
[sam id="1" codes="true"]
The West Will Win
The big winners from La Niña conditions are the resorts in the pacific north-west areas.
Chris Tomer says Whistler could see up to 15Â meters of snow this season, between 115-125% of their annual take. Â This suggests killer conditions are in store for Whistler Pride's 25th anniversary celebrations, and could also luck our with some amazing powder days during the festival.
Lake Louise should enjoy the same bump to their annual average.
But the real winners are expected to be Mount Hood, Mount Baker, and Mount Rainier, seeing up to 130% of their annual averages.
---
With Files from: OnTheSnow, NOAA, Daily Hive, CBC
Webcam Photo: Whistler Blackcomb
Cover Photo: ShutterStock